Frequently Asked Questions
Learn about the Noosa's Oyster Ecosystem Project plans, partners, processes and more.
Read FAQs >
The rocky foundations for oyster reef ecosystems have been laid at 4 restoration sites in the Noosa River estuary. These sites are Tewantin, Goat Island and two sites in lower Webya Creek. Collectively, these 30 reef patches are known as the Huon Mundy Reefs.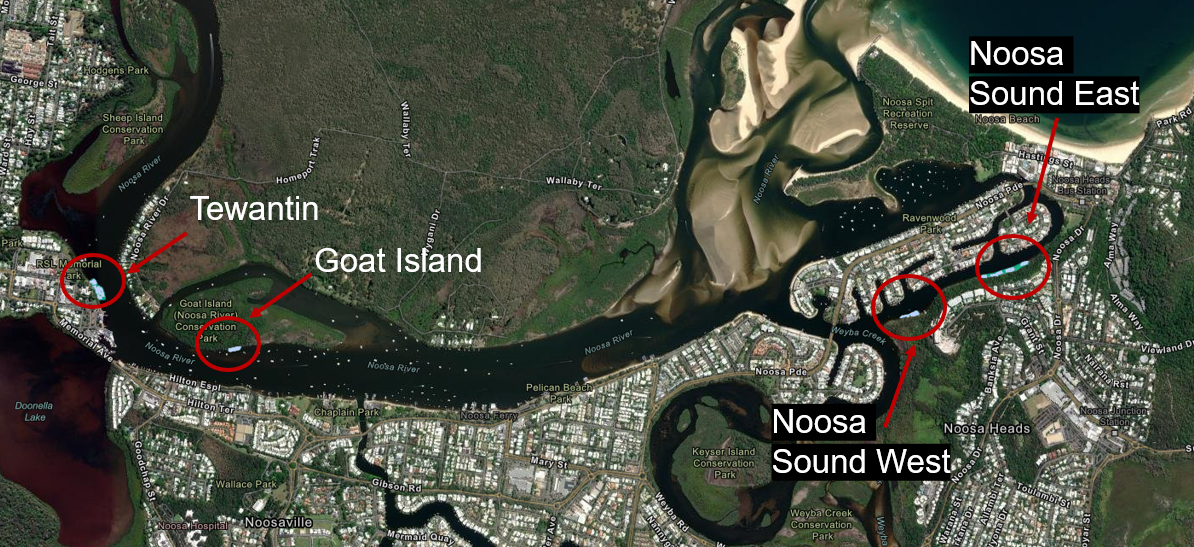 The foundations for the Huon Mundy Reefs were designed to include characteristics of historic oyster reefs while fitting in with the modern environmental condition and wide range of human uses of the Noosa River today. 
Benefits of restoring shellfish ecosystems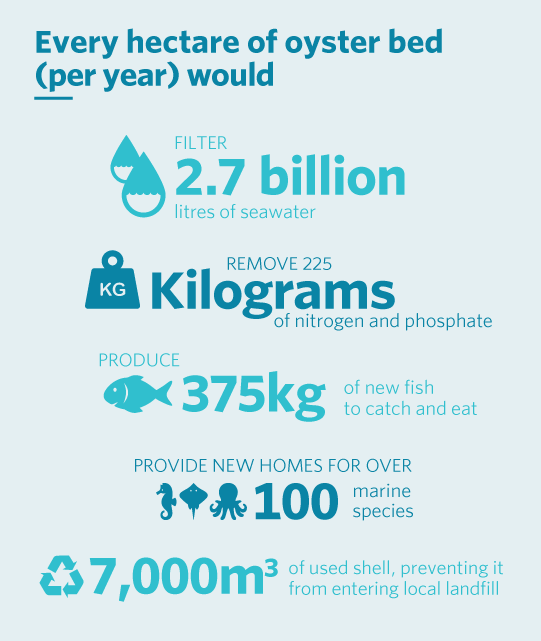 Bringing back Australia's most threatened marine ecosystem, the native oyster reef, brings back a wealth of benefits for people and nature. This includes:
Structurally complex habitat that fish and invertebrates use for resting, seeking refuge from predators and for spawning
a diverse range of food, including planktonic prey, smaller fishes, and the oysters themselves, for predatory fish, invertebrates (such as octopus) and birdlife
improved local fish populations as beds and reefs act as fish nurseries
better water clarity due to the filtration power of shellfish
extra feeding habitat for threatened migratory shorebirds
an overall increase in biodiversity
It's important we leave these areas in peace to allow the oyster ecosystem community, including the surrounding riverbed to regenerate naturally. The regeneration process takes many years. The oyster ecosystems grow over time and strive to survive modern day stresses such as climate change, river sediment, flooding, disease, predation, and the raft of human influences on the river's health and functioning.
MEDIA GALLERY:
Up until the early 1900's, oyster reefs were common throughout the Noosa River estuary. First Nations groups utilised oysters as an important protein source. Huge oyster shell middens lined the shore at Tewantin for many thousands of years. Noosa's traditional custodians, the Kabi Nation, selected the name for the reefs as the Huon Mundy Reefs after a great Kabi spiritual leader.  
To learn more about the Kabi Kabi's link to these reefs, read Uncle Fred Palin's Welcome to Country speech at the 'Shellebration' event where we celebrated the laying of the reef foundations.
Noosa's Huon Mundy Reefs are being restored as part of the Noosa Oyster Ecosystem Restoration project, a partnership a partnership between the Nature Conservancy, Noosa Shire Council, The Thomas Foundation, and the Australian Government.
If you wish to contact our team in Noosa for more details regarding this project, please email queensland@tnc.org.
Project update July 2021
Noosa Project update

Noosa Oyster Ecosystem Restoration Project update July 2021

DOWNLOAD
You can help us restore shellfish ecosystems across southern Australia.
Just $35 per month for a year, can buy enough oysters, mussels and limestone to build 8m² foundation.