Where the money goes
We can only carry out our important conservation work in Australia because of the generous backing of all of our donors and supporters. That's why we're so deeply committed to our members and so grateful for their support.
In tune with one of our values (integrity beyond reproach), we aim to provide supporters with all the information they may need to be assured that their generous donations are being appropriately applied to Australian conservation projects, and in the most efficient manner possible.
Funding for The Nature Conservancy Australia from different sources varies from year to year. The chart below shows our revenue sources for the 2022 financial year. It enables us to carry out work across Australia from our northern tropical savannas to our southern shellfish reefs, from Oyster Harbour in WA to Noosa River in QLD.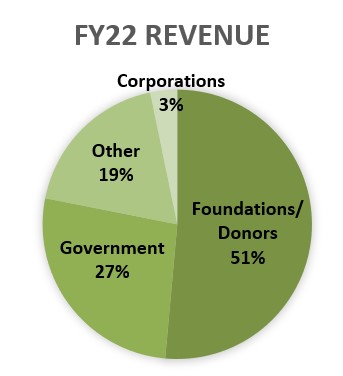 Being efficient in the application of our funding to allow the maximum conservation benefit in the field, is one of our hallmarks. In fact 83% of all expenditure in 2022 financial year is directed to conservation work. 
The chart below provides a high level breakdown of The Nature Conservancy Australia's expenditure for the last financial year.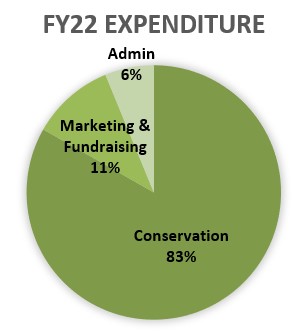 What's the impact of my donation?
Donate once and we'll direct your resources to the most urgent conservation challenges as prioritised by our conservation scientists. Donate monthly and we will channel your commitment to conservation into those same priorities but for projects with longer-term requirements, reliant on secure income. For example:
Independent peace of mind
In 2018, for the fourth straight year, The Nature Conservancy was named as one of the World's Most Ethical Companies by Ethisphere Institute, an independent research centre. This honour recognises our focus on ethics and integrity in everything we do. We were the only philanthropic organisation to be recognised.
Integrity Beyond Reproach
At The Nature Conservancy, we operate with Integrity Beyond Reproach in all of our activities around the world. We commit to:
Operate and communicate with honesty and transparency
Hold ourselves accountable to our mission, our teams, and the many communities we serve
Earn trust by engaging thoughtfully with peers and partners, building relationships, and growing our cultural competencies
Our Values of Integrity Beyond Reproach; One Conservancy; Respect for People, Communities, and Cultures; Commitment to Diversity; and Tangible Lasting Results shape who we are as an organization and how we conduct ourselves as individuals. They inspire us to do the right thing and to do right by one another. Our Values are the foundation for our Code of Conduct.
TNC Code of Conduct: People and Nature Thrive When We…
The TNC Code of Conduct provides the principles and expectations to guide staff, Board members, Trustees/Advisors, volunteers, and third-parties in the course of their work for TNC. One of those expectations is that TNC staff and others acting on our behalf will comply with all applicable laws, rules, and regulations in each country, state, or locality where TNC operates. Where TNC's Code or policies are more protective than the laws and customs in certain countries, TNC staff and others acting on our behalf will be held to the higher standards set forth in our Code.
Our Code is also an interactive field guide for our staff that provides access to additional resources to help them make sound ethical and legal decisions. Staff and others who violate our Code will face consequences.
Download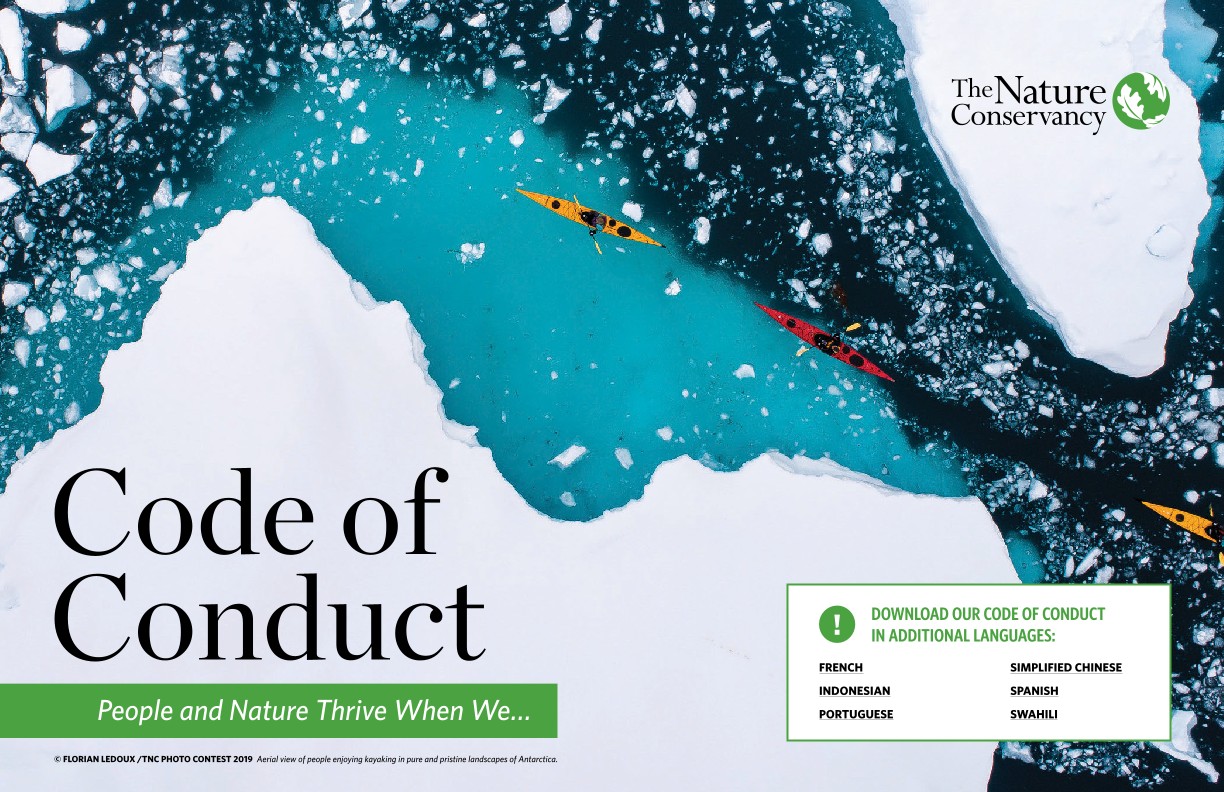 TNC maintains policies and procedures that support our Code of Conduct and provide more detail and direction for staff to follow to achieve TNC's mission in accordance with high ethical and legal standards. For example, TNC maintains policies and procedures on Conflicts of Interest; Lobbying Limitations; Participation in Candidate Elections; Corporate Engagement; Reporting Suspected Violations of Law or Policy; Confidential Information; Equal Employment Opportunity, Affirmative Action, and Diversity; Workplace Conduct, Harassment Prevention and Reporting; Privacy and Personal Data Protection; and Records Management.
TNC Helpline: Ask a Question or Report a Concern
Staff and third parties may contact the Ethics & Compliance team anytime to submit a question or concern at our online Helpline. The TNC Helpline is available online or by phone 24/7/365 in a variety of languages. In the US, you can call 800-461-9330, or text 571-458-1739. Our Helpline page has phone numbers for international calling. Concerns may be submitted anonymously where permitted by law.
TNC takes all concerns seriously and when misconduct is found, consistent disciplinary action and remedial measures are taken across the organization and at all staff levels. At TNC, we are all responsible for speaking up if something does not feel right or if we have concerns about ethical misconduct. We know it takes courage to speak up. TNC will not tolerate retaliation against individuals who ask questions or raise concerns about potential misconduct in good faith.
Ethics & Compliance Program
TNC's Ethics & Compliance Program is designed to promote and foster: 1) a culture of integrity and ethical-decision making aligned with TNC's Values; 2) compliance with TNC's Code of Conduct, policies, procedures and applicable laws; and 3) appropriate risk assessment, due diligence and monitoring to detect, deter and prevent misconduct and unethical behavior. The TNC Ethics & Compliance Office was established by the Board of Directors in 2012.
In addition to our Code and Helpline, our Ethics & Compliance Program includes the following:
Regular assessment of risks through inputs from Helpline reports, Internal Audit, Legal and management.
Annual Integrity Awareness training for all staff.
Routine Code of Conduct awareness for the Board of Directors, Trustees and Advisors.
Targeted awareness and training for staff to mitigate key risks.
Conflicts of Interest Committee.
Fair and impartial investigations of allegations of wrongdoing.
Privacy program.
Regular programmatic maturity assessments of our Ethics & Compliance and Privacy programs.
Leadership and Oversight
The Ethics and Compliance Office is led by our Chief Ethics, Compliance & Privacy Officer who reports to our General Counsel and to the Audit Committee of the Board of Directors. The Audit Committee has oversight responsibility for the Ethics & Compliance Program and the Chief Ethics, Compliance & Privacy Officer provides a report quarterly to the Audit Committee and annually to the Board of Directors.
You can help protect the future of Australia's natural environment.
The threats to our natural world have never been greater and the need for bold solutions has never been more urgent. Your generous support will put the best conservation science into action right now. Protecting nature can't wait!