Adelaide is a city of approximately 1.2 million people that lies on the eastern coast of the Gulf St Vincent or Wongga Yerlo in Kaurna language.
A healthy coast is a big part of Adelaide's current and past culture. It's enjoyed by swimmers, beach-walkers, surfers, divers, foragers and fishers—so we all want to protect it for future generations.
Across more than a third of the South Australian coastline, healthy shellfish reefs teeming with oysters, mussels, crabs, cuttlefish, prawns and fish once existed. 
Today, these ecosystems are among the most endangered marine habitats on Earth—with 85% loss worldwide.
Glenelg reef restoration
In November 2020, we built the first shellfish reef off the Adelaide coast near Glenelg covering 2 hectares. In 2021 we expanded the reef across 5 hectares.
Watch how the reef was built
The reef is thriving, with oysters the size of an adult's hand spotted. Marine life has also been seen enjoying the reef including squid, whiting and even blue swimmer crabs.
The expansion of Glenelg will continue to enhance the benefits of shellfish reefs such as purifying water, supporting fish populations and providing vital shelter for fish nurseries.
Watch underwater footage of the reef 
In 2021, we built a reef at O'Sullivan Beach, with plans to also build another at Kangaroo Island in 2022. 

The restored reefs will improve the health of the Gulf through more fish, cleaner water and increased biodiversity, they will also benefit the community and local economy through the creation of jobs during construction and increasing opportunities for recreation and tourism.
Windara Reef, off the coast of Yorke Peninsula in Gulf St Vincent, was the first reef to be rebuilt in South Australia. To date, the 20 hectare reef is the largest restored shellfish reef in the Southern Hemisphere.
History of shellfish reefs
Historical fishing records show that shellfish reefs were once dominated by the Australian Flat Oyster. They were so prolific that they supported a significant oyster fishery in South Australia during the 1800s. In fact, in 1873 the very first legislation written in South Australia was a law to protect oyster beds from overfishing. This was even before the South Australian government was formed.
The discovery of ancient shell middens across the South Australian coastline also signifies the importance of oysters to Kaurna, Narungga, Nukunu, Ngarrindjeri, Banggarla and other Indigenous Australian diets.
The disappearing shellfish reefs
When the first Europeans settled in Australia in the 1800s, large amounts of oysters were harvested for food to support the growing colonies. In the early 1900s the reefs, oysters which were rich in calcium carbonate, were dredged as a source of lime and construction materials to form the foundations of city infrastructure such as bricks and concrete.
Over time, nutrients and sediments within the fresh water running into Adelaide's coastal waters reduced the ocean's water quality and clarity. With extensive urban development, the Adelaide metropolitan coastline has experienced significant environmental degradation.
History of oyster management and reform in South Australia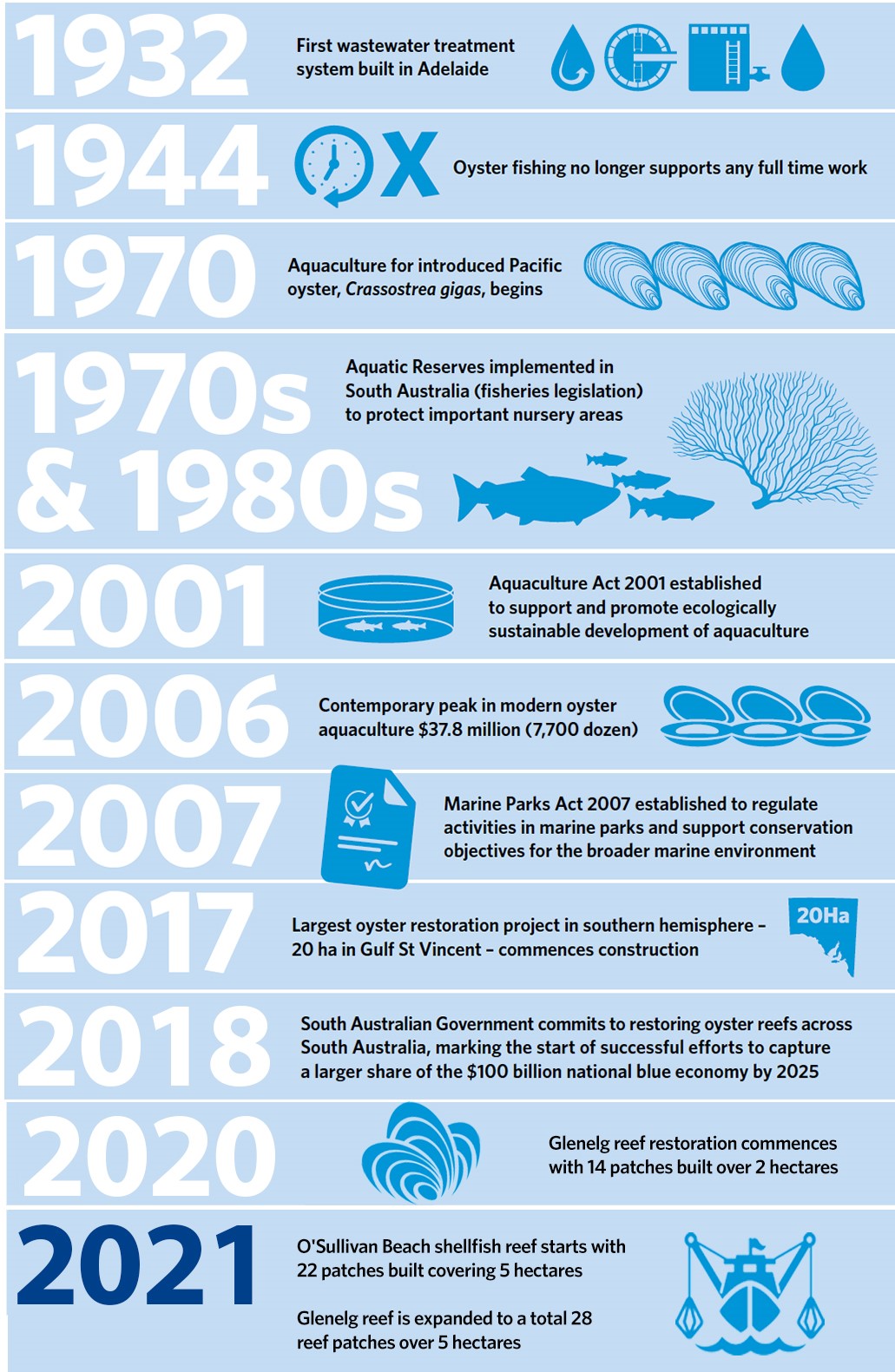 The importance of shellfish reefs
Shellfish are ecosystem engineers. They provide habitat for around 100 species of fish and invertebrates (e.g. shrimps and crabs). They also filter water, stabilise sediment and transfer nutrients from the water column to the surrounding reef community.
By bringing back Australia's most threatened marine ecosystem, these native shellfish reefs will return a wealth of benefits for people and nature including:
improved local fish populations as reefs act as fish nurseries
better water clarity due to the filtration power of oysters
increased shoreline protection
extra feeding habitat for threatened migratory shorebirds
an overall increase in biodiversity
increased opportunities for recreational fishing, economic development and tourism
David Speirs, Environment and Water Minister
"The new reef will be around the size of Adelaide Oval and is expected to be completed by late 2020. The Nature Conservancy is the world's largest conservation organisation and has international and national expertise in reef restoration projects, including rebuilding over 60 reefs globally. I am looking forward to working with them to deliver a habitat that will boost fish productivity, create jobs and improve water quality in the region."
You can help us restore shellfish reefs across southern Australia.
Just $35 per month for a year, can buy enough oysters, mussels and limestone to build 8m2 of reef.