Tasmania, although isolated from mainland Australia, doesn't fall short of natural beauty. Revelling in diverse landscapes from coast to coast, it's known for harbour views and heritage charm, due in part to cities like Hobart.
The Port of Hobart is a gateway to the world, with regular departures to Antarctica. It's also part of a long marine history, which was once the home of abundant shellfish reefs that supported wildlife and local communities.
A brief history
Australian Flat Oysters (Ostrea angasi) were once common throughout Tasmanian waters and were an important food source for Tasmania's Indigenous communities. For thousands of years before European settlement, Indigenous Australians sustainably harvested oysters.
In the 1800s following European settlement, oyster reefs were intensely harvested until the fishery collapsed.
The oyster reefs at Georges Bay, on Tasmania's East Coast are the only known remaining reefs in the area. Sadly, less than 1% of these unique ecosystems remain in southern Australia.
See why we're restoring shellfish reefs in Tasmania
Help restore shellfish reefs
For just $35 per month for a year, you could help buy materials to build 8m2 of reef
DONATE NOW >
A hopeful future
In partnership with the Australian Government and NRM South (southern Tasmania's natural resource management organisation) we're launching a project to restore these lost oyster reefs. 
The project will build new Australian Flat Oyster reefs at 2 sites in the Derwent Estuary and D'Entrecasteaux Channel; this will create up to 2 hectares of new oyster reefs. 
TNC and partners are working closely with the aquaculture industry, marine industries, the marine science community, Traditional Owners, Tasmanian Association of Recreational Fishing (TARFish) and the local community to see this project come to fruition.
Shellfish ecosystem restoration across Australia
With successful reef builds already in places like Victoria's Port Phillip Bay, we're excited to begin reef restoration in Tasmanian waters.
This project is one of thirteen sites being restored under Reef Builder, an initiative supported by the Australian Government. It aims to bring shellfish reefs back from the brink of extinction. It's also designed to support the economic recovery of communities affected by bushfires and COVID-19.
Learn more about the project
Benefits for people and nature
 The return of the shellfish reefs to Tasmania has many benefits for the local community and nature. This includes:
improved marine biodiversity and fish production
new opportunities for people to enjoy recreational fishing, snorkelling and diving
a boost to sustainable tourism
community engagement opportunities including volunteering and citizen science
improved water quality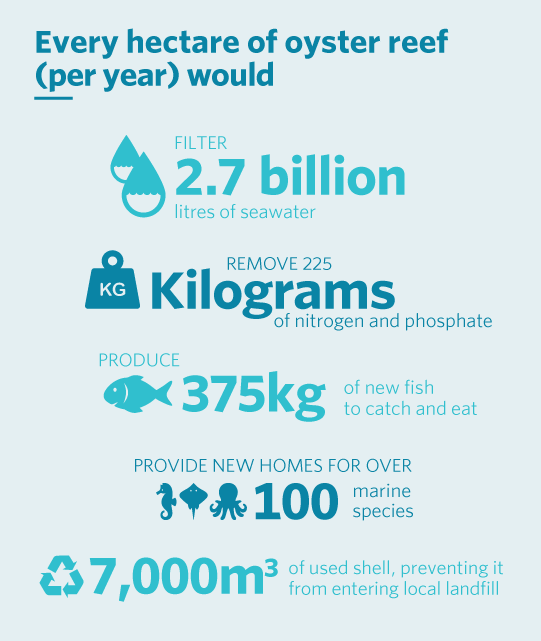 You can help us restore shellfish reefs across Australia.
Just $35 per month for a year, can buy enough oysters, mussels and limestone to build 8m2 of reef.