Kangaroo Island is one of Australia's most iconic places. It lies just 13km off the coast of South Australia and is famous for its natural landscapes. 
The island, only accessible by sea or ferry, is a haven for nature. It is abundant in native bushland, pristine beaches and wildlife like dolphins and kangaroos. Its healthy marine environment is a central part of life on the island, with recreational fishing, beach walking, diving and swimming an essential part of the local lifestyle. 
Shellfish reefs once thrived across South Australia's coastline including within the bays of Kangaroo Island. Today, these ecosystems are among the most endangered marine habitats on Earth—with 85% loss worldwide.
Bringing shellfish reefs back 
Kangaroo Island is regularly impacted by bushfires during summer. The 2019/20 summer bushfires were the largest in its recorded history. This had a major impact on the local community and the island's precious habitat and wildlife. By the time it was safe at the beginning of February 2020, about half of the island's surface had been affected.
Reef Builder is a partnership between The Nature Conservancy Australia and the Australian Government. It aims at bringing back shellfish reefs from the brink of extinction while supporting the economic recovery of communities impacted by bushfires and Covid 19.
As part of Reef Builder, we're working with the local community on the restoration of what will be Kangaroo Island's largest native oyster reef. Our goal is to restore these ecosystems, bring more fish and cleaner water so we can continue to enjoy the lifestyle that makes Kangaroo Island unique.  
The Reef Builder initiative
Planning is underway for construction to commence in Spring 2022. Reef patches made from local limestone will be constructed over a 3-hectare zone. The limestone bases will then be seeded with locally sourced Australian Flat Oysters.
The shellfish reef site would be 3km offshore in Nepean Bay, at a depth of approximately 11 metres. The precise site will be announced after community consultation.
MEDIA GALLERY:
With support from the Australian Government, the national Reef Builder project is currently restoring shellfish reefs in 13 sites across Australia.
So far, we have restored three reefs in South Australia: 
Kangaroo Island will be TNC's fourth reef restoration in South Australian waters.
Benefits of shellfish reefs 

Shellfish are ecosystem engineers. By bringing back Australia's most threatened marine ecosystem, these native shellfish reefs will return a wealth of benefits for people and nature including:

improved local fish populations, as reefs act as fish nurseries

better water clarity due to the filtration power of oysters
increased shoreline protection
extra feeding habitat for threatened migratory shorebirds
an overall increase in biodiversity
more opportunities for recreational fishing, economic development and tourism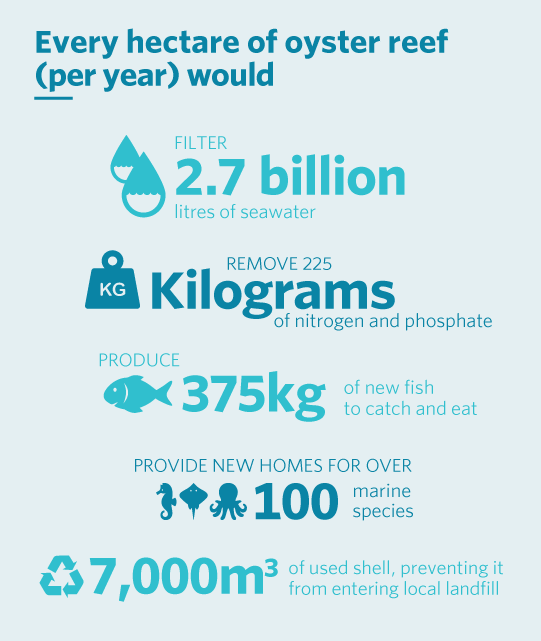 The disappearance of lost reefs
South Australian waters were once teeming with shellfish reefs. At one point, these ecosystems were so abundant that they covered more than two thirds of the South Australian coastline. 
In the 1800s, when Europeans settled in Australia, large amounts of oysters were harvested for food to support growing colonies.
In the early 1900s, oyster reefs were dredged as a source of lime and construction materials to form the foundations of city infrastructure such as bricks and concrete.
Over time, urban and agricultural runoff flowing into Adelaide's coasts reduced water quality and clarity. With extensive development, South Australia's coastline has experienced significant environmental degradation.
History of oyster management and reform in South Australia
You can help us restore shellfish reefs across southern Australia.
Just $35 per month for a year, can buy enough oysters, mussels and limestone to build 8m2 of reef.