Botany Bay is undoubtedly one of the most significant landmarks in Australia's modern history. 
The site of Captain James Cook's first landing in Australia back in 1770. The rich landscape took centre stage when Cook named it Botany Bay for "the great quantity of plants" found. 
But long before historic first landings, Botany Bay, or Kamay as per its Indigenous name, was a place of shallow waters and extensive shellfish reefs. Early historical records recall "great quantities of oysters, mussels, cockles, and other shellfish" (John Hawkesworth, official record keeper HMS Endeavour). 
On the surface, it was a place rich in native plants and swamplands. Underwater – it was a thriving ecosystem supported by shellfish reefs. 
Historic snapshot:
The disappearance of shellfish reefs 
Since the arrival of European settlers, shellfish reefs have all but disappeared. Records show that oyster reefs were once plentiful in the Bay, with James Cook himself describing the "largest oyster shells" he ever saw. Interestingly, these oysters were likely to have been the Australian Flat Oyster (Ostrea angasi), which is now locally extinct in Botany Bay.
For European settlers, oyster reefs provided easily accessible food and building material. With a lack of limestone quarries, early colonial buildings such as the first Government House were built using shell mortar produced from shells and living oyster beds. The new colony was literally built and fed on a foundation of oysters.
The first sign of overfishing and over-dredging was seen in the rapid depletion of the Botany Bay oyster stocks. Unfortunately by 1896, the natural mud oysters of Botany Bay were declared extinct. 
With the exhaustion of natural oyster reefs, the local aquaculture oyster industry developed to meet demand. However, by 2001 disease killed up to 90% of the oyster population. This outbreak marked the fall of the local industry, with many farmers closing their business in the bay. 
A hopeful future
In recent decades, the river's water quality has been recovering. With the introduction of eco-friendly practices, land re-development, and regulations on sewages. The natural populations of Sydney rock oysters in the estuary have shown an incredible resilience with signs of good health and growth. 
With cleaner water, less pollution and a healthy remnant oyster population, Botany Bay and Georges River is ready for the recovery of these lost ecosystems.
The Nature Conservancy, together with our partners Greater Sydney Local Land Services and NSW DPI Fisheries are working to restore these lost shellfish reefs.
With the support of the Australian Government, we're committed to bringing these shellfish reef ecosystems back from the brink of extinction — for the benefit of both people and nature.
To kickstart this, the Botany Bay and Georges River Oyster Reef Restoration project was established in 2021. The goal of the project is to restore up to five hectares of the locally extinct Australian Flat Oyster (Ostrea angasi) and depleted Sydney Rock Oyster (Saccostrea glomerata) reefs, across four sites, two in Botany Bay and two in the upstream shores of the Georges River.
Benefits for people and nature
The return of the shellfish reefs to Botany Bay has multiple benefits, for the local community and nature. This includes:

improved local fish populations, with beds and reefs acting as fish foraging, hiding, resting nursery grounds
increase in local biodiversity, with reefs providing habitat for more than 200 species, including invertebrates, fish and birds, some of which are considered threatened and critically endangered
 improved water clarity 
protection of adjacent habitats from erosion 
opportunities for people to enjoy recreational fishing, snorkelling and diving
a boost for local, sustainable tourism and bird watching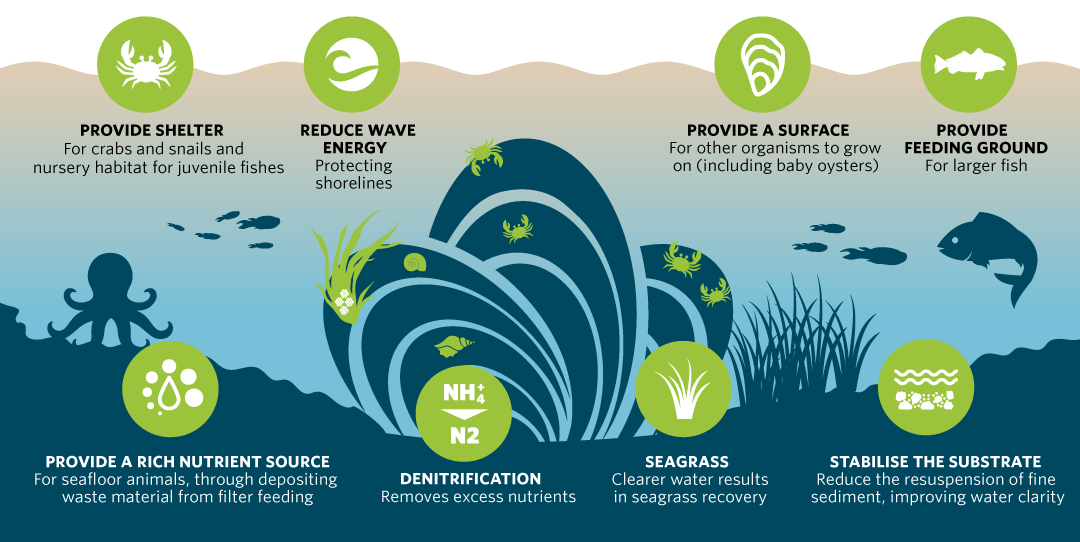 Shellfish ecosystem restoration across Australia
With successful reef builds already in places like Victoria's Port Phillip Bay and South Australia's Adelaide, we're excited to begin reef restoration in Botany Bay.
This project is a part of The Nature Conservancy's national Reef Builder initiative to bring shellfish reef ecosystems back from the brink of extinction — for the benefit of both people and nature. The national Reef Builder project is currently restoring shellfish reefs in 13 sites across Australia.
You can help us restore shellfish reefs across Australia.
Just $35 per month for a year, can buy enough oysters, mussels and quarried rock to build 8m2 of reef.