Key Takeaways
Water security—the capacity to provide safe, reliable water supplies and protect against water-related dangers—is essential for all human development and economic progress, yet 2.1 billion people lack access to safely managed drinking water services.
Any efforts to address water security at scale require multi-sector collaboration, involving the private and public sectors, and civil society.
Nature-based solutions offer some of the most effective and sustainable ways to improve water security, and they frequently offer additional benefits for communities where they are implemented, including improved agriculture, job creation and climate resilience.
There is perhaps no more precious substance than water—it is essential for life and for success in nearly every aspect of human endeavor. The UN Sustainable Development Goals call out water explicitly in Goal 6, Clean Water and Sanitation, but in fact, water security is fundamental to achieving any kind of sustainable economic and human development.
But in the economics of water security, water is usually the vehicle of the value, rather than its source. The infrastructure and institutions established to deliver water when and where it is needed determine how economic and social value are created and distributed.
But if water is the vehicle of value, are we actually investing in the most valuable solutions for our water security challenges? And are we maximising our collective ability to implement these solutions?

If we're going to address these questions, and unlock the most valuable solutions to our water security challenges, we have to look at the broader context—and address the problem at the source.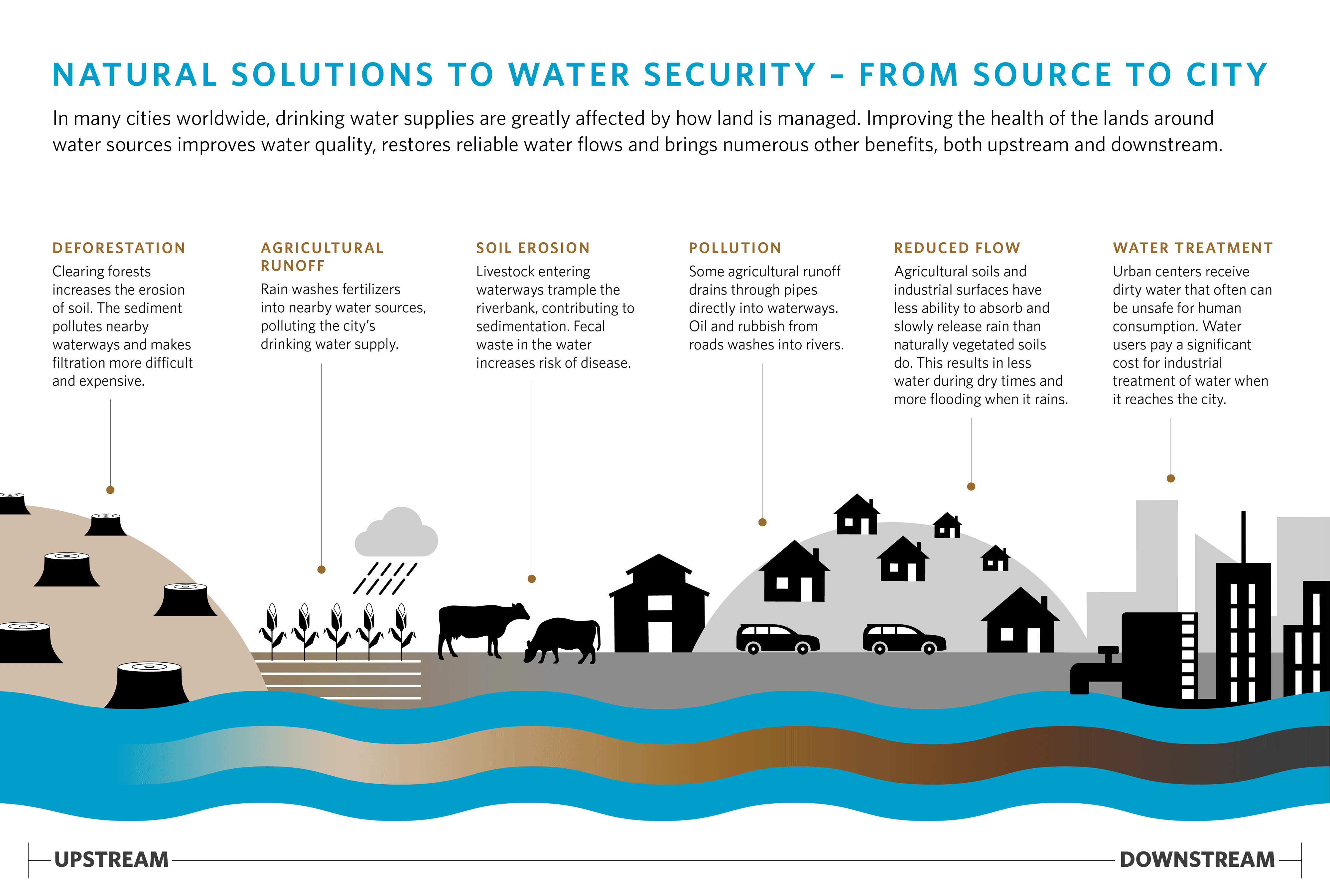 Enlarge graphic above to view animated version.
Addressing the problem at the source
Widespread degradation of watersheds around the world is leading to impaired downstream water quality, and diminished and less reliable flows. Deforestation, poor agricultural practices and other unsustainable land uses have caused moderate to high degradation in 40% of the world's urban watersheds, which leads to reduced water quality and lower water flows downstream. And even as water sources are further compromised, demand for freshwater continues to increase by about 1 percent a year to keep up with a growing population and increased industrial production.

Most communities and institutions rely only on "grey infrastructure," such as reservoirs, aqueducts, and treatment plants, to meet these and other water security challenges. But often it is more effective—and cost effective—to protect water at its source. By preserving and restoring our natural infrastructure—the healthy forests, wetlands and river ecosystems from which we source our water supplies—we can generate and deliver value in ways cannot be achieved through grey infrastructure alone.
The global development imperative 

Implementing such nature-based solutions can help us address water security challenges while also addressing other challenges to economic and human development, including public health, sustainable job creation, and the myriad threats posed by climate change—but only if we can mobilise investment on a global scale.
The business imperative
Only 10 percent of global water use is for domestic consumption—the rest goes to agricultural and industrial uses. Any efforts to address water security issues on a global scale will have to be multi-sector collaborations—and the private sector will be a key partner.
The economic incentives are already there for businesses to invest in measures that protect their water security. As a recent report from the World Business Council for Sustainable Development (WBCSD) demonstrates, even local water shortages can have global effects. In fact, WBCSD estimates that water shortages cost the global economy over US$323 billion annually.
For businesses with high water needs, such as food and beverage companies, the stakes are particularly high. Consider the global beverage industry, which is expected to reach nearly $2 trillion in value by 2021. A 2017 Trucost study showed that if companies fully absorbed the full costs of water availability and water quality impairment, this could equate to an average decline in profits of 116% for food and beverage companies.
Of course, this will likely never materialise, in large part because those very same companies, including PepsiCo, AB InBev and The Coca-Cola company, are taking a progressive approach to water stewardship, including investing in nature-based solutions to protect the natural water sources their operations and consumers rely on.
Similarly, utility companies could also see a decline in profits—up to 44% according to TruCost—creating their own incentives to address water security challenges at the source. New York City is one of the more famous examples—relatively modest investments in landscape conservation in the Catskills watershed avoided the construction of new treatment plant that would have cost up to $10 billion to build and over $100 million a year to operate, and today the city boasts the largest unfiltered water supply in North America.
International utilities like Veolia and Suez are taking these and other strategies to a global scale. For example, in addition to investing in the conservation of wetlands and forests as natural filtering systems, Veolia is developing new nature-based solutions, such as using living organisms to detect and remove pollutants from drinking water and recycling industrial components to build artificial reefs.
The development imperative
Around the world, 2.1 billion people lack access to safely managed drinking water services and 4.5 billion people lack safely managed sanitation services. The health and development implications of this are staggering: almost 80 percent of diseases in developing areas are associated with water. Degraded watersheds contribute to a lack of reliable supplies which, in turn creates an increased need to store water in containers that serve as mosquito larval habitats, such as drums, tanks, and concrete jars.
This situation will only get worse without near term action. Currently, over 90 percent of the consumptive use of water in water-stressed basins goes to agricultural production, the demand for which will only increase as populations increase and the world drives to meet Sustainable Development Goal 2– to end hunger, achieve food security and improve nutrition.
For institutions with a vested interest in global human development, investments in nature-based solutions can not only address pervasive water security challenges but also a range of other challenges.
Improved farming practices in watersheds can lead to more food and income for rural communities; restoring forests improves aquifer recharge while also sequestering carbon from the atmosphere; managing overgrown forests to control wildfire protects water supplies from heavy sediment loads and secures local communities, while also creating new sustainable forestry jobs. By providing this broad range of co-benefits, nature-based solutions deliver a wide range of values that go far beyond secure water supplies.
Water funds: A model for collective action
Unlocking the value of natural infrastructure also requires a certain level of social and financial infrastructure. The Nature Conservancy developed Water Funds to achieve this purpose. A Water Fund serves as a regional collective action platform where stakeholders from all sectors convene, coordinate and collaborate to help improve water security through science-based systemic change.
The Water Fund serves as a mechanism for downstream users, such as businesses, utilities and local governments, to invest collectively in the watersheds from which they source their water by compensating upstream water users to conserve and restore the natural systems that generate value throughout the watershed.
For over 15 years, The Nature Conservancy has been working with its partners to create 34 Water Funds on four continents, with 30 more funds in development. While we continue to develop new funds, our focus is increasingly on disseminating tools and trainings to help other communities, institutions, or even whole sectors implement the nature-based solutions to address their water security challenges.
Perhaps most important, most nature-based solutions improve not only water security, but also a range of other economic and development challenges. We have the opportunity, with the investments we make today, to ensure a sustainable, thriving planet tomorrow.
Water security in Australia
Around the world, population growth, climate change and over-extraction are placing enormous stress on the availability and quality of fresh water. Australia is no exception. In the Murray-Darling Basin – our nation's food bowl – 80% of wetlands, rivers and floodplains are in poor or very poor health.
The Murray-Darling Basin is one of the world's largest and most productive river basins, accounting for $19 billion of agricultural output and providing one third of Australia's food supply. It harbours some of our most important natural assets, supporting a diverse array of animals, plants and ecosystems of national and international significance.
To address these environmental concerns, we established the Murray-Darling Basin Balanced Water Fund to provide water security for farmers, while protecting culturally significant wetlands that support threatened species and ecosystems. The Fund invests in permanent water rights in the Southern Murray-Darling Basin and allocates those rights in a smart way.
When water is abundant and agricultural demand is lower, more water will be made available to local wetlands. When water is scarce and agricultural demand is higher, more water will be made available to irrigation. This approach optimises agricultural and environmental outcomes by replicating the natural wetting and drying cycles of the Basin. It's a win-win approach, aligning the interests of people and nature.
Learn more about our impact in the southern Murray-Darling Basin.
Get the latest updates
Keep up-to-date on how we're helping to protect Australia's Murray-Darling Basin and other iconic natural landscapes and crucial wildlife habitats.